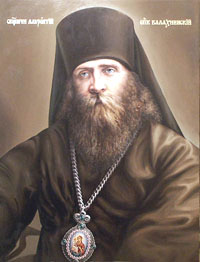 This site is devoted to martyr and confessor Lavrenti (Knyazev), Bishop of Balakhna, one of the first bishops to suffer from the godless Soviet government and the last bishop to be consecrated under czarist rule in February 1917.
Born Yevgeny Ivanovich Knyazev (future Bishop Lavrenti [Lawrence in English]) in 1877 in the provincial town of Kashira, he studied at the Venevsky theological school and at the seminary in Tula. After graduating from St. Petersburg Theological Academy in 1902, he served as a teacher at the Taurida seminary in Simferopol. In 1912 he was tonsured a monk at Valaam by Archbishop Sergius (Stragorodsky) and was appointed rector of the seminary of Vilna (now the city of Vilnius), where he worked under the spiritual guidance of Archbishop Tikhon (Bellavin), the future Patriarch. Archbishop Tikhon also consecrated Archimandrite Lawrence as Bishop of Balakhna and appointed him as vicar (assistant to the management of the diocese) in Nizhny Novgorod.
For fidelity to Holy Orthodoxy and for defending the interests of the Church and the faithful of the Russian people he was shot Novgorod Chekists (ГубЧК) just before the first anniversary of the October Revolution on Nov. 6, 1918.
By the decision of the Jubilee Bishops' Council of the Russian Orthodox Church in 2000, Bishop Lavrenti, as well as those slain along with him, Archpriest Alexy Porfiryev and Marshal of the Nobility, Alexei Borisovich Neydgart, were canonized as new martyrs of Russia. Their memory is celebrated November 6 (October 24 old style).
The author of this project aims, with the help of God, to gather all possible information about the life and work of Lavrenti, the martyr, and publish it on this site on the internet and would be grateful for any help in the search for new data.